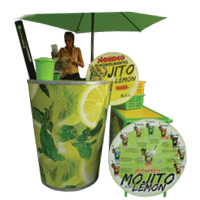 Mojito Lemon is a custom beverage and cocktail concepts with stands in location around the world including Europe, Latin America and the Caribbean region.
One of the reasons of Mojito Lemon's success is its
SIMPLICITY
-simple to move
-simple to handle
-simple to maintain
-simple to prepare
Because of the well thoughtout structure and size of the Mojito Lemon Stand, it can be deployed anywhere
without having to worry about electricity or water supply
. The maximum space needed is less than 2,5 sqm/21,5 sqf. Due to these amazing features, the maintanance costs are almost down to nothing.
The Stand has a specially bulitin ice bank, that
can carry 120 kgs of ice
for days without melting even in the most extreme where conditions, which is enough for app. 450 drinks. The Stand also comes with a side storage unit to help with onsite storage and efficiency.
The equipment due to its eye-catching design attracts people's attention and encourages their consumption. The form is completely alike with the offered product, therefore it is its own giant advertisement.
- Outside locations such as festivals and other outside events, beaches, ports, tourist areas, sales, open air shopping malls, where people can enjoy a nice, cool refreshing non alcoholic cocktail in the hot weather.
- inside locations such as shopping malls, super markets, concert halls, stadiums where people can experience the delightful taste of the drinks of mojito lemon while shopping etc.